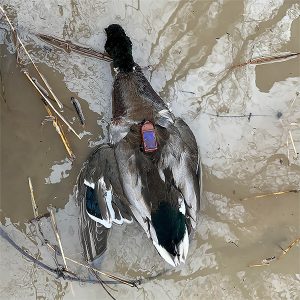 GPS BACKPACK TRACKING OF WATERFOWL
My blog is dedicated to old-time, duck-hunting stories. However, occasionally, something comes to my attention that I feel like needs to be distributed to my followers. That is the case with this blog, which has a lot of information that us old timers can testify to. However, it contains a lot of information that is novel and new to me and probably will be to you.
It came about when a friend of mine in Mississippi went on a hunt with three buddies to the boothill of Missouri and one of them killed a drake mallard with a GPS backpack monitor, pictured above, which had been placed there by the Cohen Wildlife Lab, which is located at White Lake, Tennessee and headed up by Dr. Bradley Cohen of the Tennessee Technological University. It's great to know that research like this is being done and done by a university here in Tennessee. You can read the report by this link where you will get some very informative information.
file:///C:/Users/wcapooth/Downloads/Project_Update_final_general_fy2022.pdf
And you can learn more about the project on Facebook and Instagram at @CohenWildLab or by simply searching "Cohen Wildlife Lab."
If you have time, go to this link to read a report entitled "Half-Century Winter Duck Abundance and Temperature Trends in the Mississippi and Atlantic Flyways," written by six waterfowl researchers, including Dr. Richard Kaminski, one of the greatest waterfowl researchers we have in this country.
 https://wildlife.onlinelibrary.wiley.com/doi/abs/10.1002/jwmg.22023
The photo credit goes to Wade Aldridge who was one of the four hunters. They were hunting at a club called
Eagle's Nest in Missouri and the ducks was killed by Jason Daniels.